I read a blog post some time ago on Shimelle's blog, (see here) about choosing a set of papers and using them until they are all gone and decided that as I had three layouts to make then that would be what I would do.
Usually I have this strange aversion to using up any of my whole sheets of paper and I'm always trying to make layouts from my scraps drawer hence every time I buy new papers my paper collection just grows and grows and now the papers drawers in my craft room are now literally fit to bursting. So, my late New Years Resolution must be to start using it not just stash it away, yes, even my beloved Basic Grey.
Saying that, I picked a fairy soft target and used a range of papers that I'm not particularly attached to! – Fancy Pants Botanical Papers.
All the photographs in these layouts are from our 2011 holiday in Devon which I haven't scrapped much- (oops just realized that I have just put 2010 on the last one – must find a new sticker!)
This layout is inspired by Shimelle's "Starting Point "- I love the stamping on this layouts, the birds and flowers are from a tiny stamp set from Prima. The little pointing hand tag was from a box of Dr Stuarts Teabags!
This next layout is taken from Shimelle's "Sketch to Scrapbook Page" Here is the sketch;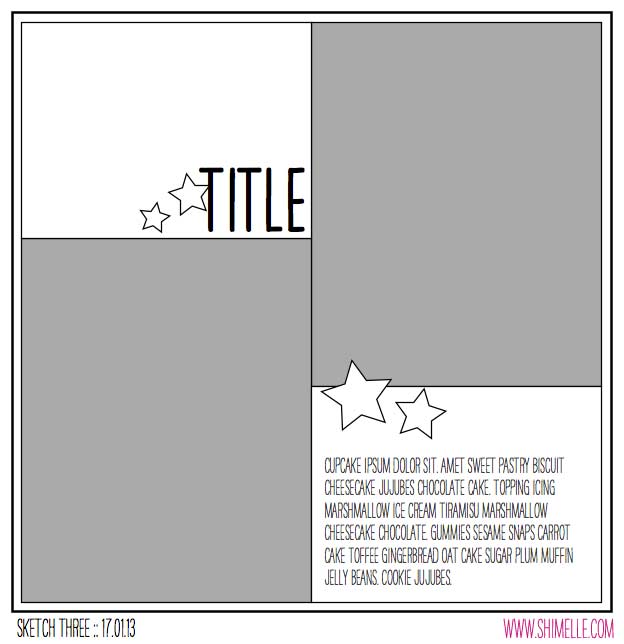 I flipped the positioning of the photos and this is what I made;
My third layout is from the previous "Sketch to Scrapbook Page"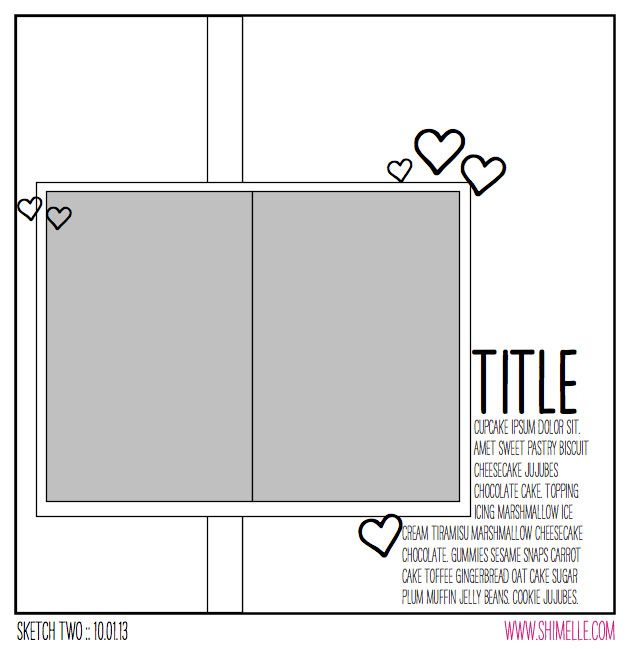 Again, I've flipped the photos around as the ones I wanted to use were landscape rather than portrait.
After making all three layout all that i had left was three little scraps so just have to decide now which paper collection to use next!